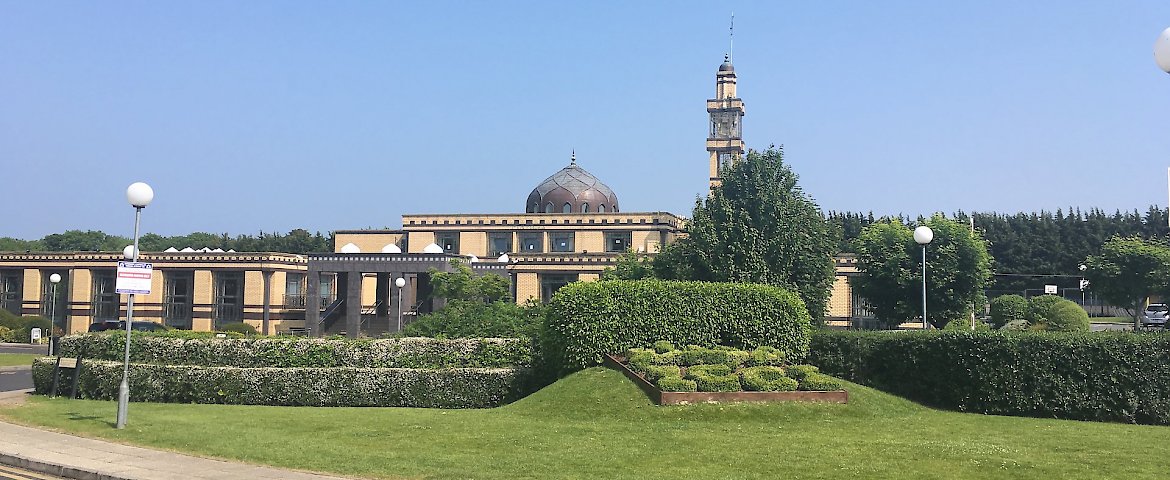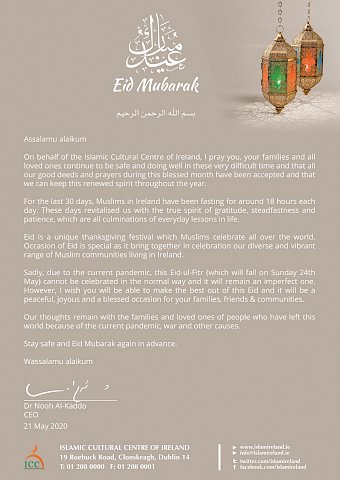 Eid Mubarak from ICCI: Eid Al Fitr 1441H/2020
In the Name of Allah, Most Gracious, Most Merciful,
Assallamu alaikum,
On behalf of the Islamic Cultural Centre of Ireland, I pray you, your families and all loved ones continue to be safe and doing well in these very difficult times and that all our good deeds and prayers during this blessed month have been accepted and that we can keep this renewed spirit throughout the year.
For the last 30 days, Muslims in Ireland have been fasting for around 18 hours each day. These days have revitalised us with the true spirit of gratitude, steadfastness and patience, which are all culminations of everyday lessons in life. 
Eid is a unique thanksgiving festival which Muslims celebrate all over the world. Occasion of Eid is special as it brings together in celebration our diverse and vibrant range of Muslim communities living in Ireland.
Sadly, due to the current pandemic, this Eid-ul-Fitr (which will fall on Sunday 24th of May) cannot be celebrated in the normal way and it will remain an imperfect one. However, I wish you will be able to make the best out of this Eid and it will be a peaceful, joyous and a blessed occasion for your families, friends and communities.
Our thoughts remain with the families and loved ones of people who have left this world because of the current pandemic, war and other causes.
Stay safe and Eid Mubarak again in advance,
Wasallamu alaikum
Dr Nooh Al-Kaddo
CEO
21 May 2020