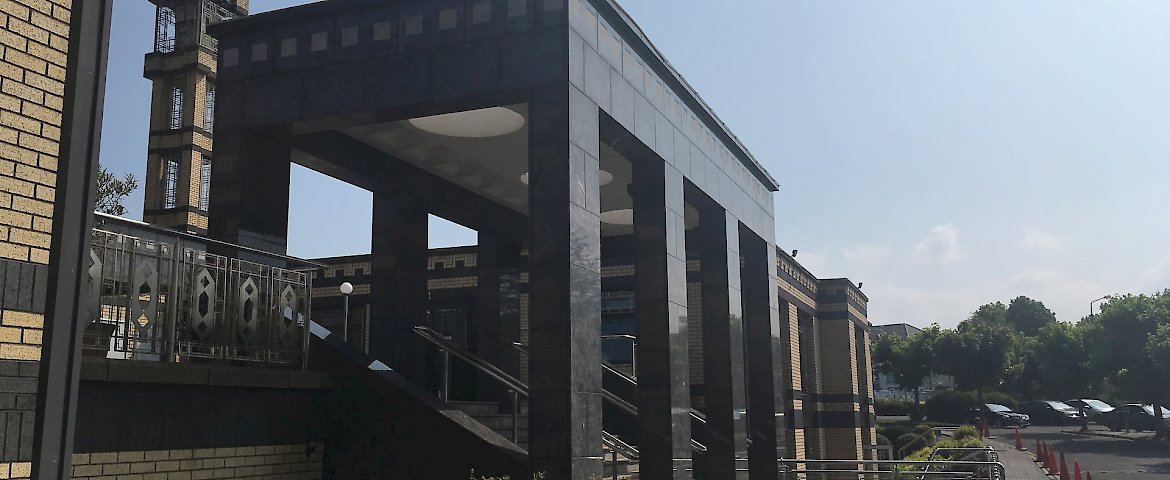 President Higgins praises Islamic Cultural Centre of Ireland for promoting tolerance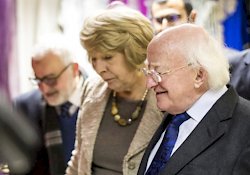 On Monday, 21st November 2016, President Higgins visited the Islamic Cultural Centre of Ireland on its landmark occasion of the 20th anniversary and officially announced "A Celebration of Islamic Art" exhibition.
As part of the Neighbourhood week, the exhibition featured renowned calligraphy artists from China and France as well as craftsmen from Morocco, all of who displayed and demonstrated their varied skilled art talents and craftsmanship.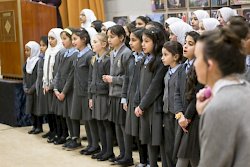 After a customary short recitation from the Qur'an the guests were greeted by the choir from the Muslim National School Clonskeagh, performing three songs in English, Arabic and finishing with an energetically performed song in the Irish language.
In addition to the President and the First Lady in attendance were An Cathaoirleach Councillor Cormac Devlin, Senator Gerry Horkan, Councillor Deirdre Donnelly, Mr Bertie Ahern, diplomatic representatives as well as other dignitaries and esteemed guests.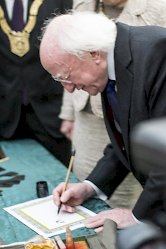 In his opening speech, Dr Nooh Al-Kaddo, CEO, welcomed all esteemed guests to the Centre's momentous occasion.  Looking back at the start of the Centre, Dr Nooh remarked "when we opened our doors in November 1996 we did so with heightened anticipation of the path that lay ahead of us". 
Through generous funding of Sheikh Hamdan bin Rashid Al Maktoum, the founder of Al Maktoum Foundation, the Centre was opened by then president of Ireland Mary Robinson in November 1996.
"Although we embraced our task with optimism" Dr Nooh said "we remained conscious at all times of the necessity to adopt and project a positive interactive work ethic to the wider community and this we maintain to this day".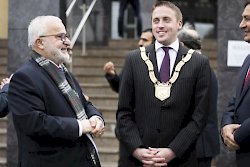 Commenting on the role of the Muslims in Ireland, Dr Nooh continued "I believe our future is bright in Ireland, today's Muslim community is generally an educated integrated part of society".  He further emphasised that Muslims in Ireland "have a duty to society and they possess the ability to effectively contribute to making Ireland greater in a variety of fields and specialties". 
Imam Sheikh Hussein Halawa, welcomed all esteemed guests, with the words of 'peace' remarking that "our Prophet Muhammad (pbuh) taught us that those who do not thank people, do not thank Allah" and so, on this occasion, he said "we must thank all who have contributed to these 20 years".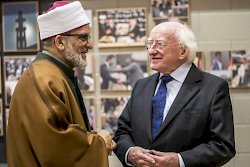 As such Imam Halawa particularly thanked Sheikh Hamdan Bin Rashid Al-Maktoum for his generous donation, which enabled building and work of the Centre possible, Mr Mirza Al-Sayegh for his unwavering support over the years as well as many nameless Muslim students who took it upon themselves to initiate building of the Centre.
Imam Halawa also praised and "thanked the people of Ireland and the Government, who opened their arms to us in welcome" and he continued to say "they were our support over the 20 years". 
He also expressed his special thanks for "the cooperation of the Church" concluding "we might have different religions and cultures but we all live in Ireland in harmony".
In his keynote speech, the President praised the Centre for its dedication in promoting a deeper understanding of different traditions and cultures of modern Ireland and expressed his thanks for the important part the Centre engaged during the past two decades.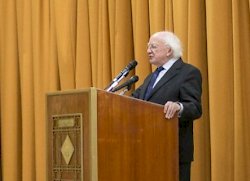 In his second visit to the Centre, the President congratulated it for the "engaged dialogue, constant effort to improve understanding and respect for our differing cultures and beliefs, and a real will to build relationships on all that we have in common". 
This, he said, has, "provided invaluable opportunities to combat prejudice and misunderstanding, and promote tolerance and acceptance". 
Mr Higgins also remarked how "at this particularly historic juncture, opportunities to encounter Islamic culture directly are an important tool in counteracting an increasingly widespread Islamophobia." Mr Higgins noted that this was "fuelled by an ignorance of the politics and history of the Middle East and ill informed stereotyping, a blindness" he said, "to the many ways in which our Muslim citizens and residents enrich our lives, and a misrepresentation of the tenets of the Islamic faith itself".
Remarking on the Neighbourhood week itself, the President said, "it is also a valuable outward expression of the hand of friendship that the Islamic community consistently and generously holds out to its wider community".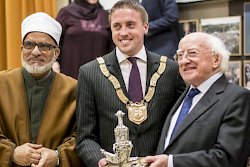 The significance of the Neighbourhood week is in that "it allows for the creation and strengthening of new connections with your neighbours. It also enables a sharing of the culture and heritage of which you are understandably very proud".
While enjoying the art exhibits, Mr Higgins commented that "by what is visual today, is the absence of distinction of what is beautiful from what is useful".
At the end of the ceremony, a number of people were presented with gifts of appreciation for their long-term engagement with the Centre and community. 
Among them An Cathaoirleach Councillor Cormac Devlin, Mr Bertie Ahern,  H.E. Dr Saeed Mohammed Al Shamsi  (in absentia), Sh Yahya Al-Hussain, Mr Ghulam Barri, Dr  Mudafar AlTawash, Dr Radwan Farghaly (in absentia), the artists: Mr Hajji Noor Deen, Mrs Yiying Cao, Dr Salah Al Moussawy, Mr Mouad Bouteyine and Mr Omar Essakhi.