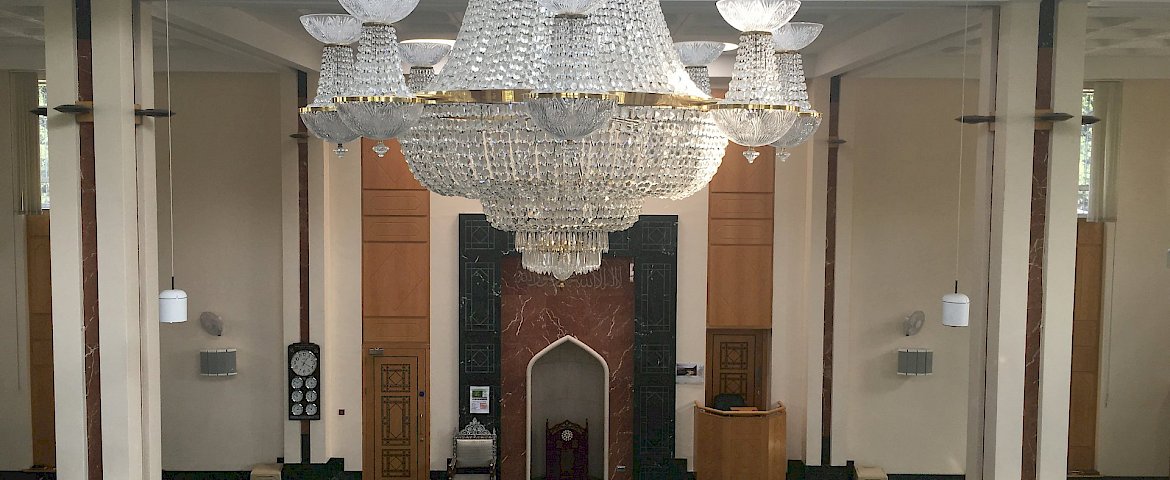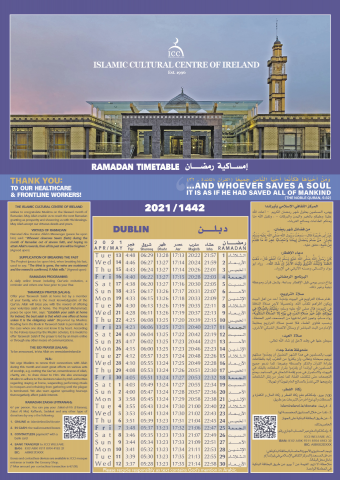 Ramadan 2021 Timetable
THE ISLAMIC CULTURAL CENTRE OF IRELAND  wishes to congratulate Muslims on the blessed month of Ramadan. May Allah enable us to reach the next Ramadan granting us prosperity and showering us with His blessings. May Allah accept our virtuous deeds and yours. Ameen.
VIRTUES OF RAMADAN
Narrated Abu Huraira: Allah's Messenger (peace be upon him) said: "Whoever observes Sawm (fasts) during the month of Ramadan out of sincere faith and hoping to attain Allah's rewards, then all his past sins will be forgiven (Agreed upon)
SUPPLICATION OF BREAKING THE FAST
The Prophet (peace be upon him), when breaking his fast, used to say: "The thirst is gone, the veins are moistened and the reward is confirmed, Allah wills." (Agreed upon)
RAMADAN PROGRAMME:
A daily online lesson including Qur'anic recitation, a reminder and others one hour prior to your iftar
TARAWEEH PRAYER (SALAH):
Offer your Taraweeh Salah at home led by a member of your family, who is the most knowledgeable of the Qur'an. Allah will bless you with the reward offering your voluntary salah at home. The Prophet Muhammad, peace be upon him, says: "Establish your salah at home for indeed, the best salah is that which one offers at home unless it is the obligatory salah" (Reported by Muslim). Reading from the Book in Taraweeh Salah is permissible, in the case when one does not know it by heart. According to the Fatwas issued by the Muslim scholars, it is invalid to offer Taraweeh Salah if the prayer is led by an imam online or through any other means of communications.
THE EID PRAYER (SALAH):
To be announced, insha Allah on: www.islamireland.ie
N.B.
We urge Muslims to renew their connections with Allah  during this month and exert great efforts on various acts of worship, e.g. reciting the Qur'an, remembrance of Allah, charity, etc., to draw closer to Him. We also encourage Muslim to adhere to the decisions taken by Irish authorities regarding staying at home, suspending performing rituals in mosques and refraining from gathering until the pandemic is terminated. We also warn against spreading rumours that negatively affect public interest.
RAMADAN ZAKAH (FITRANAH):
€7 per person. You can pay your Zakat-ul-Fitr (Fitarana), Zakat Al Mal, Kaffarah. Sadakat and any other type of donations through our online donate portal

Alternatively, you can also donate by any of the following methods:
IN CASH: wall-mounted boxes
BANK TRANSFER: ICC WELFARE   

IBAN: E02 AIBK 9311 8704 4183 32
BIC: AIBKIE2DXXX
Boxes and contactless devices are available in: ICCI mosque entrance or inside the grocery shop. (Maximum amount per contactless transactions is €7).